The Captain: The Magnificent 788
Boat review from The Captain Magazine, Issue Nine, 2017
The Captain puffs out his chest and steps aboard the biggest console the Signature factory has ever built, powered by the largest motor Suzuki has ever built; two, in fact.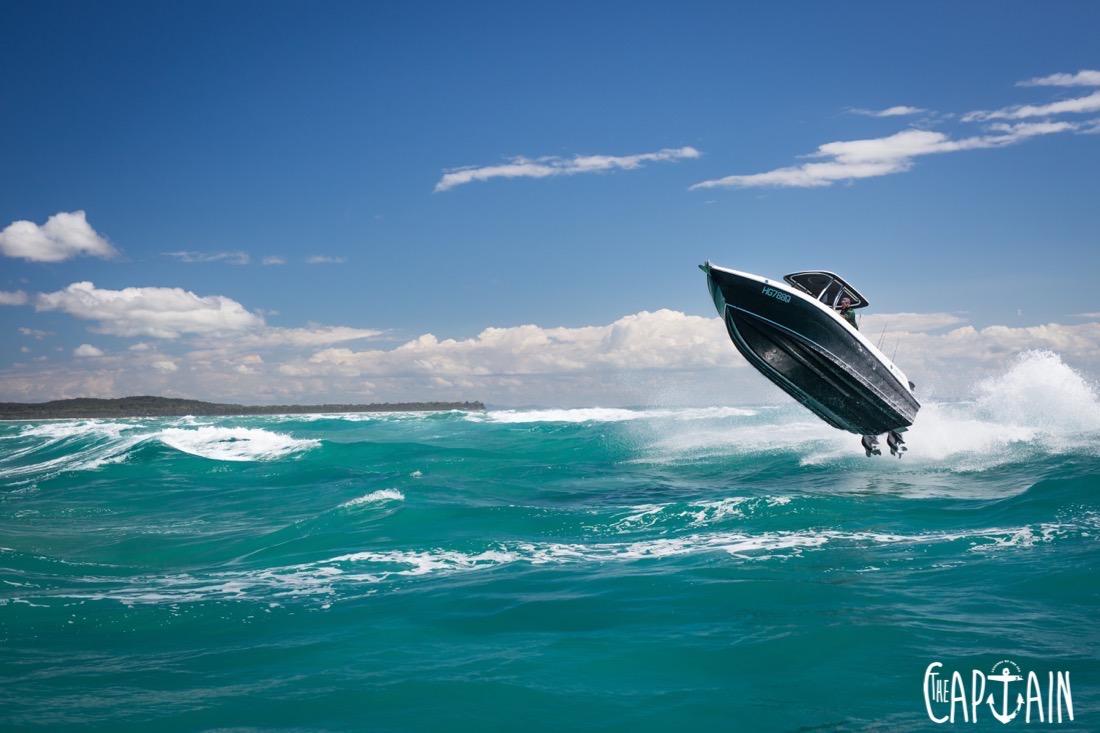 We're still not sure why John Haines built the 788SF. It's the biggest console ever built by the Signature factory — but is it just a show pony for Suzuki's new 350HP with twin props? (The Haines Group is the exclusive Australian importer of Suzuki outboards.)
Does it herald a new fishing-themed regime at Signature? Perhaps John is trying to top his old man in the design stakes? (John Haines Snr was famous for designing Australian classics including the 445, V17, 773 and many more.) Or was it just because he just wanted the cover of The Captain? Either way, we didn't give a shit. We were just happy to accept the invite from John to spin some props off Brisbane — four props with 12 blades, to be precise...
Our mission was to catch a decent fish in the boat — The Captain's cunning plan being that if it was splattered with tuna blood, John mightn't want it back. We enlisted the help of Matty Scholz, who's caught more coral trout than most Queensland commercial operators catch in a lifetime. Having said that, when he told us we needed to meet at Brisbane's Manly Boat Harbour ramp at 3:45am, we wondered just how badly we wanted that fisherman's basket.
THE EARLY BIRD GETS SHIT COFFEE
Fast-forward to 2 o'clock the next morning and we unenthusiastically drag our arses out of bed. Squeezing ourselves and the bulky camera gear into a Hyundai Getz, we instruct Siri to direct us to the nearest coffee. She suggests a 7-Eleven service station, which does nothing for morale. With bleary eyes and burnt tongues from the shitty 7-Eleven coffee, we roll up to the boat ramp. There she is… the 788SF in the flesh. Blinged to a mint and lit up like a kebab shop at 3am, this baby is definitely worth the early wake-up call.
Scholtzy and crew greet us with an excited handshake, before running through the fishing plan for the day. A kingfish entrée, followed by a GT session for the main course, sounds good to us. "Don't get too excited though, Brissy fishing is real tough." Scholtzy announces. "It's alright mate, you always put us on the fish. No pressure," we bounce back.
After loading up the 788SF with more rods adorned with stickbaits than an entire Nomad Sportfishing charter, we slide the rig off the trailer and into the pitch-black water.
FISHING TRIP: ABORTED. NEW MISSION: JUMP BOAT
As we approach the bar crossing, the sun pours through the storm clouds making for a spectacular, electrically charged sunrise. After a beautiful moment admiring nature in all its glory, it's time for mother nature to admire the 788SF. We drop the hammers on the twin 350s and launch the fully composite 7.8m centre console high into the air. Getting the props out is effortless and driving it is a little too fun — did someone say something about fishing? The all-new hull has the 16 to 34-degree Signature Variable Deadrise Hull Design (or as Signature call it, SVDH). The ride really is insane. Soft and predictable, it still feels like you're living life on the edge as you lean the big beast into power turns. And for a console, it's damn dry. The big reverse chines deflect the spray, throwing water in tidal wave-esque proportions onto unsuspecting camera boats. Eek, sorry again, guys!
Power comes from twin 4.4L Suzuki DF350 four-strokes — Suzuki's biggest engine on the market — the same ones we tested in Miami. The 788SF has as many propeller blades as a Lancaster bomber — six blades on each engine, 12 blades in total.
They're counter-rotating and designed to give the boat perfect balance and directional stability. For the nerds it has twin injectors per cylinder, four valves per cylinder and variable valve timing. It has massive acceleration and deceleration, and also some finesse with joystick control, which The Captain is still trying to get his head around.
Top speed is 109km/h. In terms of fuel efficiency we don't give a toss because John Haines was paying the bills, but a glance at the Simrad display shows we're burning 47L per hour at 3100RPM, cruising at 26 knots. That's not a typo. We're travelling at almost 30 knots at under 4000RPM! With 500L of fuel, long-range missions are also on the cards.
The 788SF has a few sweet features you don't see in Australian-built consoles. It's got a centre console with head, shower and sink below, plus 57L water capacity — perfect for Fraser Island missions! Best of all, the boat is legally towable with 2.5m beam, so you don't need a Mack truck lit up like a circus tent to drag it to the boat ramp.
To hunt fish, we use twin Simrad NSS16 evo3s. The top-water fishing is quiet, as Matty warned, but we still manage a handful of small kings and a nice GT, which easily finds a new home in the massive live bait tank. Other tricks include WiFi, integrated GPS and CZone control. And the 788SF can carry up to 10 people — more than enough to have your own fishing competition.
Read the review or check out all the pics from the day via The Captain website: The Magnificent 788