Haines Signature 500F Review | SA Angler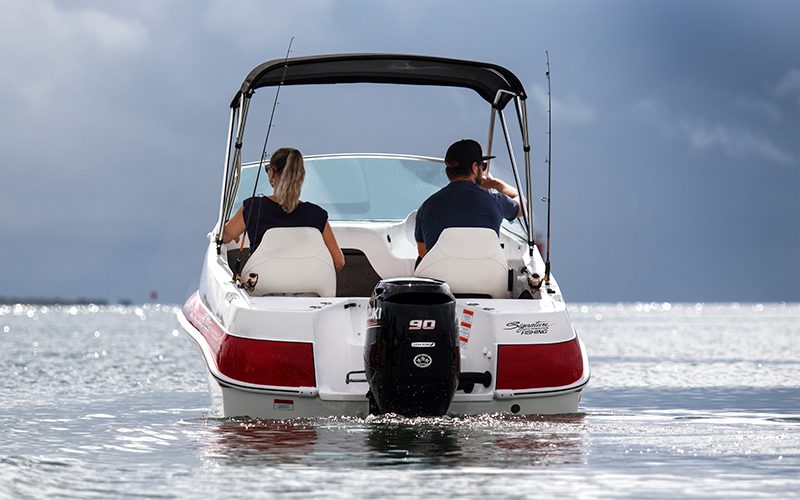 This review was originally published in issue #263 of South Australian Angler by Shane Mensforth.
---
Previously marketed as the 495F, this neat little cuddy has long been among Signature's most popular inshore fishing rigs. It's neat, compact and a snack to tow behind a smaller SUV or family wagon.
Immediately noticeable as you climb aboard is the general standard of build and finish. Like all Signatures, this one features immaculate gelcoat and paint work, with all fittings and hardware straight from the top shelf. I doubt there's a 'glass boat builder in the country that presents its products as well as the Haines Group.
The variable deadrise hull, which starts off at 33 degrees at the forefoot and tapers back to 21 degrees at the transom, is legendary for its soft riding characteristics. It's this hull design that has won Signature so many friends over an extended period, and is essentially the key factor in the brand's long term sales success.
Outboards of between 60–100hp are recommended for the 500F, and Pacific Marine had fitted the test model with a new Honda BF90. This is a four cylinder four stroke with programmed electronic ignition that delivers the full 90hp at 5800rpm. It weighs 166kg, which isn't the lightest in its class, but seems to balance well with the Signature hull.
The 500F hull weighs in at a tad over 630kg dry, which translates to an average highway towing mass of around 1,100 kilos. It's a breeze to launch and retrieve, making life easy for those who regularly go boating single handed
For the full article purchase the latest copy of South Australian Angler or click here to see the boat in action!!