Haines Signature 485SF Review | SA Angler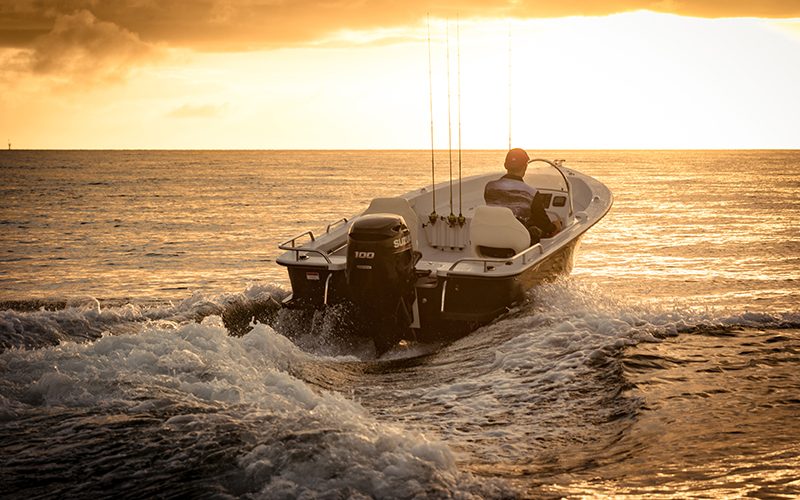 This review was originally published in South Australian Angler by Shane Mensforth.
Once in a decade you come across a boat that really stands out in its class – a rig that just keeps on keeping on, showing no sign at all of becoming outdated or in need of a serious upgrade. Haines Signature's brilliant 485SF fits that category perfectly, and when Tim Hearse from Pacific Marine suggested we take one for a run recently, I couldn't climb aboard quickly enough. Although we've featured it in these pages before, I had no hesitation in revisiting this truly exceptional craft.
The 485SF has been around now for 13 years, consistently hanging onto a major slice of the high-end estuary fishing market. Originally modelled on the US bass boat concept, it's aimed squarely at serious sportfishers looking for a fast, stable boat that operates nicely in shallow water, but also is capable of handling a decent chop.
Unlike most conventional 'glass hulls, the Signature 485SF is built with the unique RTM process, which uses vacuum injected resin to provide both strength and lightness. The bare boat weighs just 320kg, rivalling most aluminiums of the same size and enhancing shallow water operation.
Signature offers the 485SF in basic form with few frills, or as a more upmarket package with as many factory-fitted add-ons as the budget allows. It comes with side console in standard guise, but can be ordered as a centre console if so desired. I really like the side console configuration in smaller inshore boats, as it opens up the floor and lends itself well to stand-up-and-cast type fishing. I'm not so sure about the actual design of the console, however, which offers very little room for mounting large screen displays behind the inclined Perspex screen.
Everything else about the 485SF's is about as good as it gets. Although it may not be for everyone, the long side rod locker is a very handy option, particularly for fly fishers. Being able to securely store expensive graphite fly and spin rods makes good sense, even if it does consume a little extra space down the port side.
For the full article purchase the latest copy of South Australian Angler or click here to see the boat in action!!